stresan

®

– Kirchhellener Sand
What makes stresan

®

an excellent equestrian sand?
Due to diverse geophysical influences, silica sands from different mining sites are carrying different characteristics – that's why not every type of silica sand is designed to be used as a horse riding surface.
stresan® – Kirchhellener Sand has inherently the best properties to be used as a riding surface. The fine stresan® grain-size curve creates an excellent water retention capacity and only compacts the sand to such an extent that it offers horses' hooves optimal penetration and stability. At the same time, our silica sand is able to dispel excess water across the surface, where infrastructure allows. In order to provide the ideal surface for each equestrian.
The right surface for every discipline
Each discipline of equestrian sport comes with its own demands with regard to the equestrian surface. We have 18 different stresan® products on offer, providing you with the right equestrian sand for every use. stresan® is a pure quartz sand which has all the properties a good equestrian sand should have:
Our equestrian sand mixes are virtually dust-free, ensure a safe landing, have a high shearing strength and generate almost no wear to the hoof – and our Kirchhellen Sand holds up even after strong rains.
We see our challenge in the production of equestrian surfaces that delight our customers and their horses!
Thanks to our passion for continuous development and years of experience in the production of equestrian surfaces, we are able to fulfill the very different requirements of our customers. The consistently high quality of our equestrian sand is a matter of course for us.
For our equestrian surface mixtures we exclusively use certified fibres and high-quality woodchips that is particularly gentle on the horses' hooves. All materials for our equestrian surfaces are thoroughly tried and tested to determine their effect on horse and the environment. The composition of the equestrian sand is individually adapted to the clients' expectations and requirements. In order for you to be sure that your equestrian arena surface is made from original stresan® – "Kirchhellener Sand", all customers buying our equestrian sand will receive a certificate of authenticity for their surface.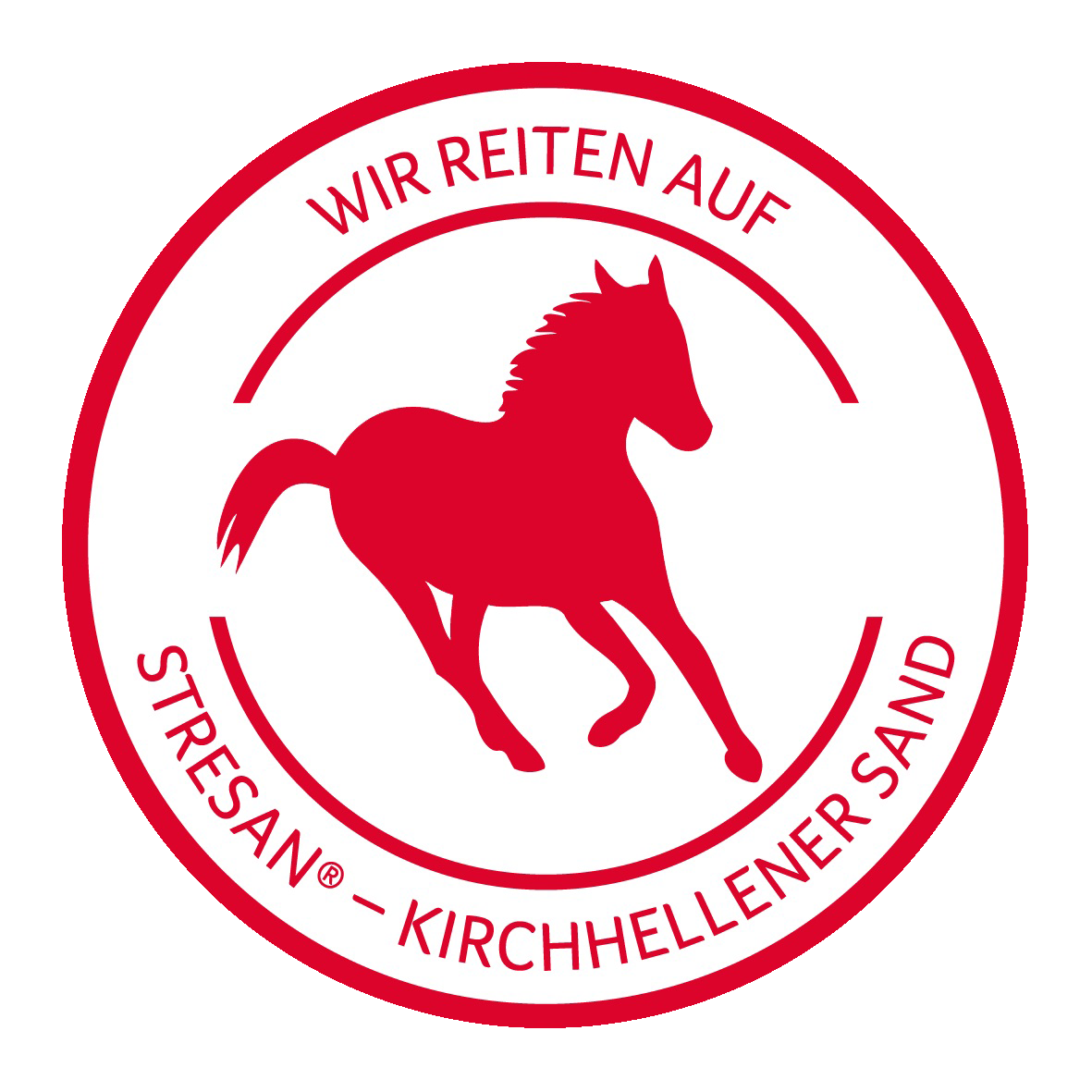 The History of stresan

®

- Kirchhellener Sand
For more than 80 years our family business is extracting sand and gravel from our sand pits in Kirchhellen. Formerly only for the construction materials industry – but in the beginning of the eighties we discovered that stresan® has unique features which characterize the ideal surface for equestrian sports.
After running some tests on our own and equestrian arenas in the near surroundings, the perfect sand mixture was found: today's stresan® – Kirchhellener Sand! The new equestrian surface convinced riders from the surrounding area as well as the professionals. The at the time world's most sought-after specialist for equestrian arena surfaces and builder of the Olympic equestrian riding grounds, Hermann Duckek, made our stresan® widely recognised beyond the borders of Europe which would prove to be our breakthrough as a superior supplier of sand for equestrian sports.
With the target to offer the perfect equestrian surface for every occasion, our sand and aggregates are undergoing continuous tests and optimization – a passion which is also shared by the next generation. Therefore the corporate values are spread and the constantly high quality of stresan® is guaranteed. A family history we are proud of.
Contact us without obligation via our contact form, arrange an appointment for a video consultation or call us. We look forward to hearing from you!