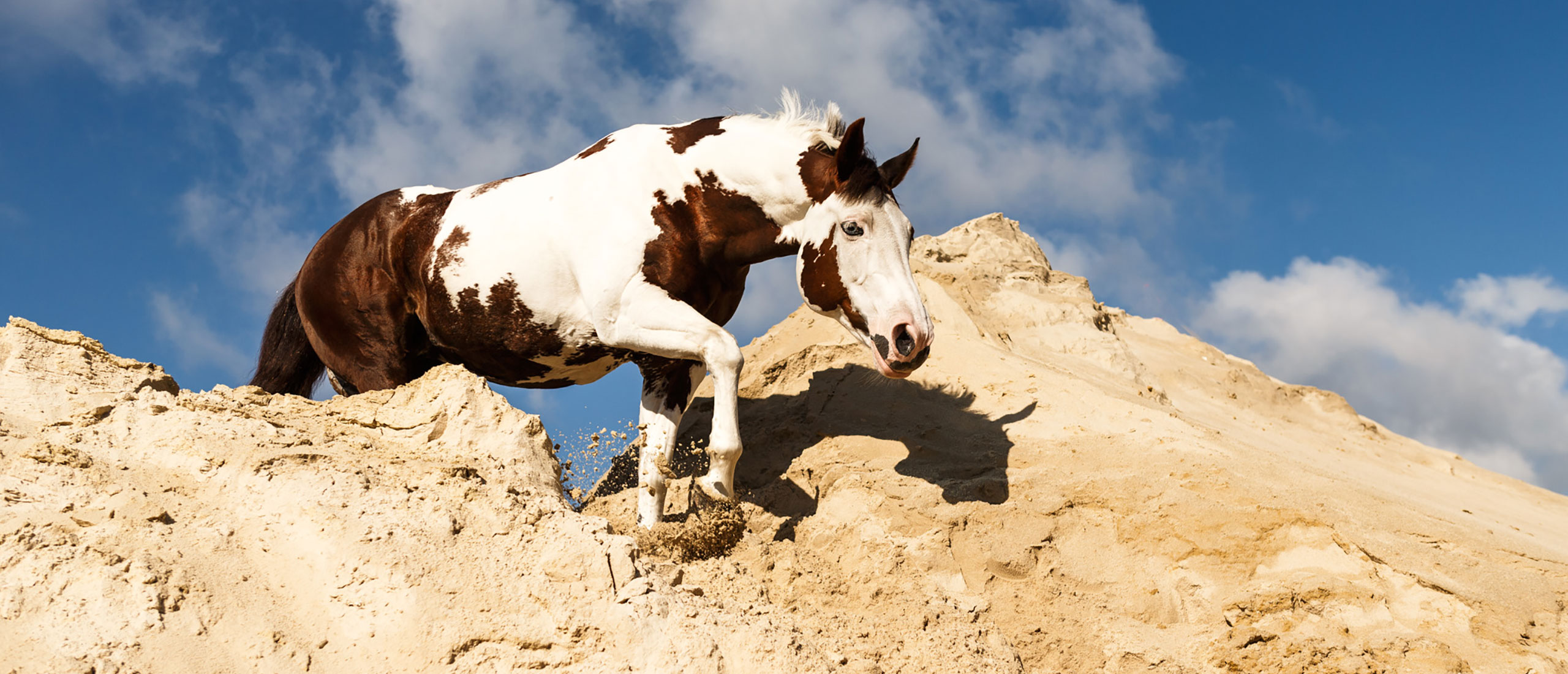 stresan® Kirchhellener Sand provides the ideal footing for every riding surface. We know what we are talking about - as an established family business, Stremmer Sand + Kies GmbH has been quarrying sand and gravel from the Kirchheller Heide in North Rhine-Westphalia for over 80 years.
Back in the 1980s we discovered that Kirchhellener Sand makes an ideal footing for equestrian sports and so we developed stresan® for perfect surfaces for riding arenas. Our stresan® equestrian sand mixes are used at riding facilities across Europe. Our philosophy of 'progress through change' means that we continually test and enhance stresan® so that we can always provide you with the ideal equestrian sand. Discover the high quality of our Kirchhellen Sand!
stresan
®

® – Kirchhellener Sand
Due to diverse geophysical influences, silica sands from different mining sites are carrying different characteristics – that's why not every type of silica sand is designed to be used as a horse riding surface.
The interplay between sub-base and tread layer is crucial for outdoor riding arenas. Stremmer Sand + Kies GmbH products include stresan® A all-round sand, which drains off the surface and thus requires no drainage system. If your riding arena already has a drainage system, our permeable surfaces will work well for you. The right materials will keep your arena ready for use, even in bad weather conditions.
The paddock is a good additional choice of space for providing your horses sufficient turnout during the course of the day. We also supply stresan® N Paddock – a very permeable sand specially tailored to paddock surface requirements so that your horses can sufficiently move about, even in bad weather, and have a soft place to lie.
We'd be happy to set up a personal appointment to advise you on the right sand for your needs. Because equestrian sand requirements are just as individual as the sport itself. That's why we've developed 18 different stresan® products to meet the diverse demands of riding surfaces.
As equestrians sand specialists, we'll also help you select the right sub-base. Equestrian sand is our area of expertise – so naturally we also know what should lie below the surface. Request a complete consultation for assistance in selecting the right materials. If you'd like, we'll also send you contact information for equestrian arena building specialists.
Our delivery fleet ensures that your stresan® order will be delivered punctually and professionally. All of our drivers are trained specially for delivery to riding facilities. Our special vehicles can also deliver to low indoor arenas. For distances of over 200 km we offer alternative transport through an external haulier.
All riding surfaces must be replaced after a certain amount of time. We'll take care of the proper removal of your old stresan
®
surface for a reasonable price when you purchase your new surface from us. We'll also remove other manufacturer's surfaces for you upon submission of a chemical analysis. Trust our expertise and the high-quality of stresan
®
Kirchhellener Sand for your arena's surface and it's installation.